Mendel discovered the pattern associated with _____after developing a series of rules in genetics.
Correct Answer : B
Mendel was accurately able to predict the patterns of heredity by studying rules related to genetics. These rules helped shape his theory of heredity. Heredity is the characteristics offspring inherit from their parents.
From experiments with garden peas, Mendel developed a simple set of rules that accurately predicted patterns of heredity. He discovered that plants either self-pollinate or cross-pollinate, when the pollen from one plant fertilizes the pistil of another plant. He also discovered that traits are either dominant or recessive. Dominant traits are expressed, and recessive traits are hidden.
Mendel's Theory of Heredity
To explain his results, Mendel proposed a theory that has become the foundation of the science of genetics. The theory has five elements:
Parents do not transmit traits directly to their offspring. Rather, they pass on units of information called genes.
For each trait, an individual has two factors: one from each parent. If the two factors have the same information, the individual is homozygous for that trait. If the two factors are different, the individual is heterozygous for that trait. Each copy of a factor, or gene, is called an allele.
The alleles determine the physical appearance, or phenotype. The set of alleles an individual has is its genotype.
An individual receives one allele from each parent.
The presence of an allele does not guarantee that the trait will be expressed.
TEAS 7 Exam Quiz Bank
HESI A2 Exam Quiz Bank
Find More Questions 📚
$69/ months
Teas 7 Questions: We got the latest updated TEAS 7 questions
100% Money Refund: 100% money back guarantee if you take our full assessment pass with 80% and fail the actual exam.
Live Tutoring: Fully customized live tutoring lessons.
Guaranteed A Grade: All students who use our services pass with 90% guarantee.
Looking For TEAS Exam Help?
Naxlex is here for you and guarantees you an A on your exams. Furthermore, you only pay after results.
Related Questions
Correct Answer is D
Explanation
Because it has more protons than electrons, this atom has a positive charge and can be classified as a cation. When a metal such as sodium reacts to become stable, it loses its valence electrons. At first, it is a neutral atom with 11 protons and 11 electrons. When it loses an electron, the number of protons does not change, and the atom has 11 protons and 10 electrons. Because there is one more positively charged proton, acationforms. A cation is an ion with a net positive charge.
Correct Answer is B
Explanation
A cell copies its DNA during the S phase, and nucleotides are the building blocks of DNA. Thus, the step preceding the S phase, theG1phase, is the phase of the cell cycle when the cell would contain the most nucleotides.
For a cell to divide into more cells, it must grow, copy its DNA, and produce new daughter cells. Thecell cycleregulates cellular division. This process can either prevent a cell from dividing or trigger it to start dividing.
The cell cycle is an organized process divided into two phases:interphaseand theM (mitotic) phase. During interphase, the cell grows and copies its DNA. After the cell reaches the M phase, division of the two new cells can occur. The G1, S, and G2phases make up interphase.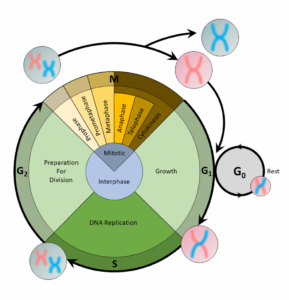 G1:The first gap phase, during which the cell prepares to copy its DNA
S:The synthesis phase, during which DNA is copied
G2:The second gap phase, during which the cell prepares for cell division
It may appear that little is happening in the cell during the gap phases. Most of the activity occurs at the level of enzymes and macromolecules. The cell produces things like nucleotidesfor synthesizing new DNA strands, enzymes for copying the DNA, and tubulin proteins for building the mitotic spindle. During the S phase, the DNA in the cell doubles, but few other signs are obvious under the microscope. All the dramatic events that can be seen under a microscope occur during the M phase: the chromosomes move, and the cell splits into two new cells with identical nuclei.
Correct Answer is C
Explanation
Because more solute could be added and dissolve, the solution has not yet reached its limit and is considered unsaturated. Because all the solute dissolves, the particles in the mixture are evenly distributed as a homogenous mixture.
Amixtureis when elements and compounds are physically, but not chemically, combined.
Ahomogeneousmixture is when substances mix evenly and it is impossible to see individual components. Aheterogeneousmixture is when the substances mix unevenly and it is possible to see individual components.
Asolutionis a type of homogeneous mixture that is formed when a solute dissolves in a solvent.
The concentration of a solution is the amount of a substance in a given amount of solution. Anunsaturatedsolution has the ability to dissolve more solute and asaturatedsolution has already reached the limit of solute it can dissolve.
Correct Answer is C
Explanation
Theaging processaffects hormone activity in one of three ways: their secretion can decrease, remain unchanged, or increase.
Hormones thatdecrease secretioninclude the following:
Estrogen (in women)
Testosterone (in men)
Growth hormone
Melatonin
Inwomen, the decline in estrogen levels leads to menopause. Inmen, testosterone levels usually decrease gradually. Decreased levels of growth hormone may lead to decreased muscle mass and strength. Decreased melatonin levels may play an important role in the loss of normal sleep-wake cycles (circadian rhythms) with aging.
Hormones that usually remainunchangedorslightly decreaseinclude the following:
Cortisol
Insulin
Thyroid hormones
Hormones that mayincrease secretionslevels include the following:
Parathyroid hormone
Follicle-stimulating hormone (FSH)
Luteinizing hormone (LH)
Norepinephrine
Epinephrine, in the very old
Correct Answer is C
Explanation
A pH of 7 is a neutral solution, which is how pure water is classified. Researchers can determine the strength of an acid or a base by measuring the pH of a solution. The pH value describes how acidic or basic a solution is. On pH scale, shown below, if the number is less than 7 the solution is acidic. A pH greater than 7 means the solution is basic. When the pH is exactly 7, the solution is neutral.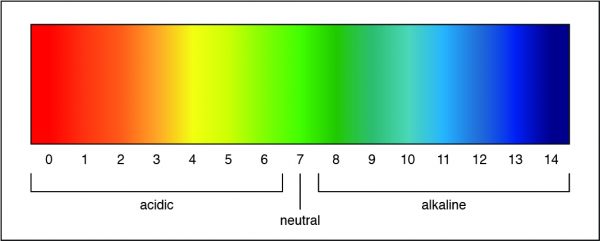 Correct Answer is B
Explanation
In this reaction, chlorine (Cl2) is an element in the reaction that replaces iodine in the compound sodium iodide (NaI). This allows chlorine to form a compound with sodium (NaCl) and leaves iodine (I2) as an element.
Synthesisreactions involve two or more reactants (A and B) combining to form one product (AB). In the example provided, hydrogen (H2) and oxygen (O2) begin as separate elements. At the end of the reaction, the hydrogen and oxygen atoms are bonded in a molecule of water (H2O).
Decompositionreactions have only one reactant (AB) that breaks apart into two or more products (A and B). In the example above, hydrogen peroxide (H2O2) breaks apart into two smaller molecules: water (H2O) and oxygen (O2).
Single-replacementreactions involve two reactants, one compound (AB) and one element (C). In this type of reaction, one element replaces another to form a new compound (AC), leaving one element by itself (B). In the example, zinc replaces hydrogen in hydrochloric acid (HCl). As a result, zinc forms a compound with chlorine, zinc chloride (ZnCl2), and hydrogen (H2) is left by itself.
Double-replacementreactions involve two reactants, both of which are compounds made of two components (AB and CD). In the example, silver nitrate, composed of silver (Ag1+) and nitrate (NO31-) ions, reacts with sodium chloride, composed of sodium (Na1+) and chloride (Cl1-) ions. The nitrate and chloride ions switch places to produce two compounds that are different from those in the reactants.
Combustionreactions occur when fuels burn, and they involve specific reactants and products, as seen in the examples below. Some form of fuel that contains carbon and hydrogen is required. Examples of such fuels are methane, propane in a gas grill, butane in a lighter, and octane in gasoline. Notice that these fuels all react with oxygen, which is necessary for anything to burn. In all combustion reactions, carbon dioxide, water, and energy are produced. When something burns, energy is released, which can be felt as heat and seen as light.
Correct Answer is D
Explanation
Because this is a positive correlation, if the nutrient concentration increases or decreases, plant height will either increase or decrease accordingly.
While analyzing data, scientists tend to observe cause-and-effect relationships. These relationships can be quantified using correlations.Correlationsmeasure the amount of linear association between two variables. There are three types of correlations:
Positive correlation:
As one variable increases, the other variable also increases. This is also known as a direct correlation.
Negative correlation:
As one variable increases, the other decreases. The opposite is true if one variable decreases. A negative correlation is also known as an inverse correlation or an indirect correlation.
No correlation:
There is no connection or relationship between two variables.
Correct Answer is D
Explanation
Human intercourse consists of the male introducing sperm into the female's reproductive system. Sperm may then pass through the female's reproductive system to the Fallopian tubes where one sperm fertilizes an ovum, creating azygote. The zygote passes out of the Fallopian tube and implants into the uterine wall to begin gestation. Over nine months, the zygote develops and grows into an embryo and then a fetus. An infant is the baby that is born.
Correct Answer is D
Explanation
The primary organ of the urinary system is the kidney. Blood from the heart flows through the kidneys via the renal artery. As blood drains from the kidney, it exits through a series of veins, the most prominent of which is the renal vein. When urine is produced, it does not drain through the tubes through which blood flows. Rather, urine flows through two ureters before emptying into the urinary bladder.
The following steps outline how the urinary system works:
Kidney filters and excretes wastes from blood, producing urine.
Urine flows down the ureters.
Urine empties into the bladder and is temporarily stored.
Bladder, when filled, empties urine out of the body via the urethra.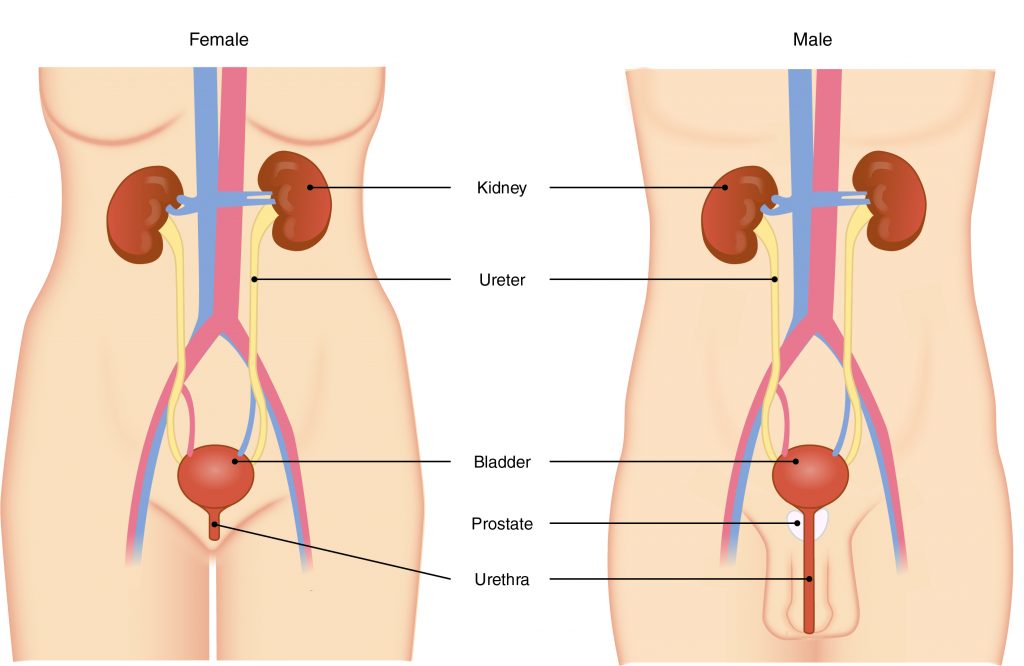 Correct Answer is A
Explanation
Taxonomy is the process of classifying, describing, and naming organisms. There are seven levels in the Linnaean taxonomic system, starting with the broadest level, kingdom, and ending with the species level. For example, in the image the genus level contains two types of bears, but the species level shows one type. Additionally,organisms in each level are found in the level above it. For example, organisms in the order level are part of the class level. This classification system is based on physical similarities across living things. It does not account for molecular or genetic similarities.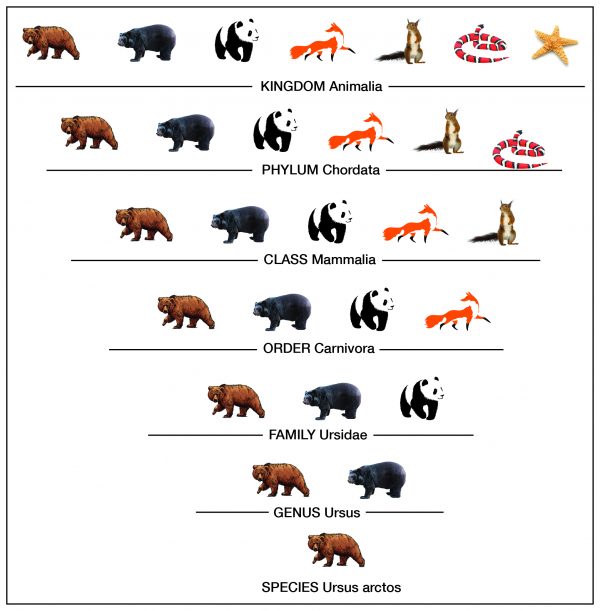 This question was extracted from the actual TEAS Exam. Ace your TEAS exam with the actual TEAS 7 questions, Start your journey with us today
Visit Naxlex, the Most Trusted TEAS TEST Platform With Guaranteed Pass of 90%.
Money back guarantee if you use our service and fail the actual exam. Option of personalised live tutor on your area of weakness.