Which blood group is a universal donor?
Correct Answer : D
A person can be a universal blood donor or acceptor. A universal blood donor has type O blood, while a universal blood acceptor has type AB blood.
There are several different types or groups of blood, and the major groups are A, B, AB, and O. Blood group is a way to classify blood according to inherited differences of red blood cell antigens found on the surface of a red blood cell. The type of antibody in blood also identifies a particular blood group. Antibodies are proteins found in the plasma. They function as part of the body's natural defense to recognize foreign substances and alert the immune system.

Depending on which antigen is inherited, parental offspring will have one of the four major blood groups. Collectively, the following major blood groups comprise the ABO system:
Blood group A: Displays type A antigens on the surface of a red blood cell and contains B antibodies in the plasma.
Blood group B: Displays type B antigens on the red blood cell's surface and contains A antibodies in the plasma.
Blood group O: Does not display A or B antigens on the surface of a red blood cell. Both A and B antibodies are in the plasma.
Blood group AB: Displays type A and B antigens on the red blood cell's surface, but neither A nor B antibodies are in the plasma
In addition to antigens, the Rh factor protein may exist on a red blood cell's surface. Because this protein can be either present (+) or absent (-), it increases the number of major blood groups from four to eight: A+, A-, B+, B-, O+, O-, AB+, and AB-.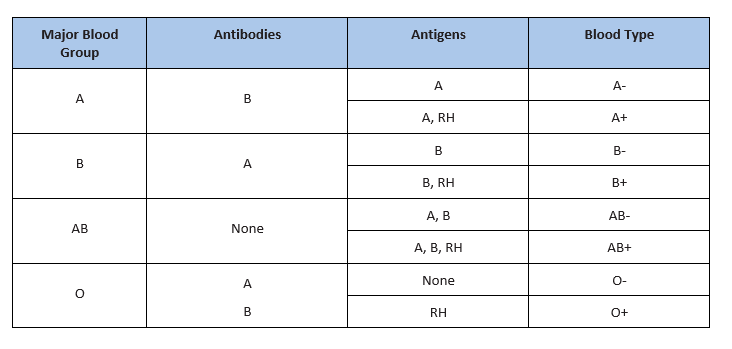 TEAS 7 Exam Quiz Bank
HESI A2 Exam Quiz Bank
Find More Questions 📚
$69/ months
Teas 7 Questions: We got the latest updated TEAS 7 questions
100% Money Refund: 100% money back guarantee if you take our full assessment pass with 80% and fail the actual exam.
Live Tutoring: Fully customized live tutoring lessons.
Guaranteed A Grade: All students who use our services pass with 90% guarantee.
Related Questions
Correct Answer is B
Explanation
There are two major types of receptor molecules that respond to an intercellular chemical signal:
Intracellular receptors: These receptors are located in either the cytoplasm or the nucleus of the cell. Signals diffuse across the cell membrane and bind to the receptor sites on intracellular receptors, of the same cell.
Membrane-bound receptors: These receptors extend across the cell membrane, with their receptor sites on the outer surface of the cell membrane. They respond to intercellular chemical signals that are large, water-soluble molecules that do not diffuse across the cell membrane.
Correct Answer is D
Explanation
The autonomic nervous systemis responsible for activities that arenonvoluntaryand under unconscious control. This system controls glands and the smooth muscles of internal organs, heart rate, breathing, and digestion. The autonomic nervous system is further divided into the following:
Sympathetic nervous system: The sympathetic nervous system focuses on emergency situations by preparing the body forfight or flight. (Sympathetic = Stress)
Parasympathetic nervous system: The parasympathetic nervous system controls involuntary processes unrelated to emergencies. This system deals with "rest or digest" activities. (Parasympathetic = Peace)
Thesomatic nervous systemprimarily controlsvoluntaryactivities such as walking and riding a bicycle. Thus, this system sends information to the CNS and motor nerve fibers that are attached to skeletal muscle.
Correct Answer is B
Explanation
Pathogenis an infectious foreign body that enters the body and causes disease or illness to the person. There are five types of pathogens: viruses, bacteria, fungi, protozoa, and worms. Pathogens have antigen proteins found on their surface and are unique to each pathogen.
Antibodyis a protein produced by the body's immune system when it detects harmful substances (antigens). There are many different antibodies found in the body. Each one is unique and protects the body against the specific antigen that it detects at any given time. If there are no antibodies for a specific antigen, the more likely you are to develop an illness.
Vaccinationsare the introduction of a dead or disabled pathogen or of a harmless microbe with the protein of a pathogen on its surface into the body. Often administered through needle injection, to stimulate the immune system to produce immunity to a specific disease Immunity protects the body from a disease when exposed to it.
There are four types of immunity: natural/passive, natural/active, artificial/passive, and artificial/ active.
Natural/passive – Babies receive immunities from breastmilk.
Natural/active – The body produces antibodies to combat an illness when a person becomes sick.
Artificial/passive – This immunity is temporary and requires doses of serum to maintain the immunity.
Artificial/active – A vaccination provides artificial/active immunity.
Correct Answer is B
Explanation
Mendel was accurately able to predict the patterns of heredity by studying rules related to genetics. These rules helped shape his theory of heredity. Heredity is the characteristics offspring inherit from their parents.
From experiments with garden peas, Mendel developed a simple set of rules that accurately predicted patterns of heredity. He discovered that plants eitherself-pollinateorcross-pollinate, when the pollen from one plant fertilizes the pistil of another plant. He also discovered that traits are eitherdominantorrecessive. Dominant traits are expressed, and recessive traits are hidden.
Mendel's Theory of Heredity
To explain his results, Mendel proposed a theory that has become the foundation of the science of genetics. The theory has five elements:
Parents do not transmit traits directly to their offspring. Rather, they pass on units of information calledgenes.
For each trait, an individual has two factors: one from each parent. If the two factors have the same information, the individual ishomozygousfor that trait. If the two factors are different, the individual isheterozygousfor that trait. Each copy of a factor, orgene, is called anallele.
The alleles determine the physical appearance, orphenotype. The set of alleles an individual has is itsgenotype.
An individual receives one allele from each parent.
The presence of an allele does not guarantee that the trait will be expressed.
Correct Answer is D
Explanation
Both litmus paper and a pH scale can be used to indicate whether a solution is acidic. However, a pH scale can also determine the strength of an acid.
Researchers can determine the strength of an acid or a base by measuring the pH of a solution. The pH value describes how acidic or basic a solution is. On pH scale, shown below, if the number is less than 7 the solution is acidic. A pH greater than 7 means the solution is basic. When the pH is exactly 7, the solution is neutral.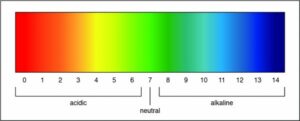 Correct Answer is A
Explanation
Only plant cells have cell walls, which help protect the cell and provide structural support. The cell wall also enforces the overall structural integrity of the plant cell, and it is found outside the cell membrane. The next organelle is a chloroplast. It is found in the cytoplasm of only plant cells.Chloroplastsare photosynthetic compounds usedto make food for plant cells by harnessing energy from the sun. These organelles play a role in photosynthesis.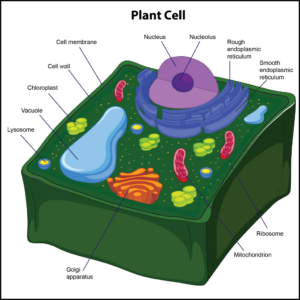 Correct Answer is B
Explanation
Autotrophs are organisms that use basic raw materials in nature, like the sun, to make energy-rich biomolecules. Minerals are naturally inorganic.
Autotrophsare organisms that make energy-rich biomolecules from raw material in nature. They do this by using basic energy sources such the sun. This explains why most autotrophs rely on photosynthesis to transform sunlight into usable food that can produce energy necessary for life. Plants and certain species of bacteria are autotrophs.
Correct Answer is D
Explanation
The duodenum is the first part of the small intestines, located between the stomach and the middle part of the small intestines (jejunum). Once food has mixed with acid in the stomach, it moves into the duodenum, where it then mixes with bile from the gallbladder and digestive juices secreted from the pancreas. In the duodenum, absorption of vitamins, minerals, and nutrients begins.
Correct Answer is C
Explanation
Inductive reasoning involves making specific observations and using them to make broad statements. The student observes that all of the tigers have the same stripe pattern. He can use this observation to make the broad statement that all the tigers' offspring will have the same stripe pattern.
Inductive reasoninginvolves drawing a general conclusion from specific observations. This form of reasoning is referred to as the "from the bottom up" approach. Information gathered from specific observations can be used to make a general conclusion about the topic under investigation. In other words, conclusions are based on observed patterns in data.
Correct Answer is B
Explanation
Skeletal muscle: This muscle cell is striated, long, and cylindrical. There are many nuclei in a skeletal muscle cell. Attached to bones in the body, skeletal muscle contracts voluntarily, meaning that it is under conscious control.
Smooth muscle: This muscle consists of nonstriated muscle cells that are spindle-shaped. Like cardiac muscle cells, smooth muscle cells contain one nucleus. This muscle type is found in the walls of internal organs like the bladder and stomach. Smooth muscle contraction is involuntary and controlled by the autonomic nervous system.
Cardiac muscle: This muscle consists of muscle cells that are striated, short, and branched. These cells contain one nucleus, are branched, and are rectangular. Cardiac muscle contraction is an involuntary process, which is why it is under the control of the autonomic nervous system. This muscle is found in the walls of the heart.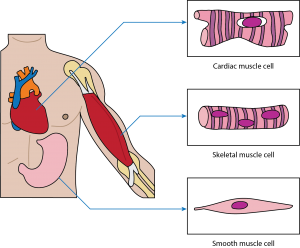 This question was extracted from the actual TEAS Exam. Ace your TEAS exam with the actual TEAS 7 questions, Start your journey with us today
Visit Naxlex, the Most Trusted TEAS TEST Platform With Guaranteed Pass of 90%.
Money back guarantee if you use our service and fail the actual exam. Option of personalised live tutor on your area of weakness.