Which of the following is the correct conversion of 2 3/4 yards into inches?
Correct Answer : D
we use the US customary system of units' equivalent to convert from yards to inches. We know that 1yard=3 ft, and 1 ft =12 inches.
First, convert 2 ¾ into an improper fraction.

Then,

TEAS 7 Exam Quiz Bank
HESI A2 Exam Quiz Bank
Find More Questions 📚
$69/ months
Teas 7 Questions: We got the latest updated TEAS 7 questions
100% Money Refund: 100% money back guarantee if you take our full assessment pass with 80% and fail the actual exam.
Live Tutoring: Fully customized live tutoring lessons.
Guaranteed A Grade: All students who use our services pass with 90% guarantee.
Looking For TEAS Exam Help?
Naxlex is here for you and guarantees you an A on your exams. Furthermore, you only pay after results.
Related Questions
Correct Answer is D
Explanation
Percentages always add up to 100%. If we let x be the percent of graduates working for jobs unrelated to law, then
74%+3%+2%+x=100%
79%+x=100%
Subtract 79% from both sides of the equation
79%-79%+x=100%
x=100%-79%
x=21%
So, the number of graduates working for jobs unrelated to law is 21%.
Correct Answer is D
Explanation
We can interpret 'cannot exceed" as less than '<'. Therefore, in our inequality, the symbol < must be included. Now let's convert the word problem into a mathematical inequality.
Money spent on supplies=s
Money spent on textbooks=t
Total money spent=money spent on supplies + money spent on textbooks
Total money spent = s+t
But the money spent cannot exceed $12,000. Then,
s+t <$12,000.
However the money spent can still be equal to $12000, as it has not exceeded it.
Therefore, therequired inequality is s + t <= $12,000.
Correct Answer is D
Explanation
Round trip means to and from, which is twice the distance from home to a medical facility.
In one day, the round trip=19+19=38 miles
So, in 22 days, the round trip=38*22=836 miles.
The patient will cover 836 miles in 22 days.
Correct Answer is A
Explanation
We need to find the length of the rectangle from the given area and width of the rectangle. Let L be length if the rectangle. Then,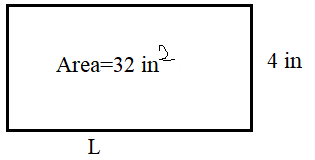 Area of rectangle=Length*width
Substituting area=32 in2 and w=4 inches
32=L*4
32=4L
Divide both sides by 4
32/4=4L/4
8=L
The length of the rectangle is 8 inches.
Correct Answer is C
Explanation
When dividing fractions, the division sign is changed into multiply sign and the first fraction is multiplied by the inverse of the second fraction.

Change division to multiply sign and find invers of 5/8. The inverse of a fraction is inverting the given fraction. The denominator becomes the numerator and the numerator becomes the denominator.

Correct Answer is B
Explanation
we are asked to change 400 mg to g. We use the conversion 1g=1000mg, which we can write as:

So, 400 mg to g becomes

Correct Answer is A
Explanation
From the given problem,
49.5 pounds of fertilizer is needed to farm 1 acre of land. This can be interpreted as:

Or

Now we are needed to find the acres of land that will be farmed using 2000 pounds of fertilizers. To solve this, we use the second option as follows:

2000 pounds of fertilizers can farm approximately 40 acres of land.
Correct Answer is D
Explanation
To answer this question, we need to observe the trend of the number of days with dollars. On day 2, the dollars were 8, after 5 days, the dollars decreased to 3, after 13 days, the dollars increased to 10. After 14 days, the dollars declined to 6 and again rose to 16 dollars after 19 days.
From this observation, we cannot be able to establishany correlation between days and dollars.
Correct Answer is A
Explanation
In this problem, we take the triangle as a right-angled triangle and label it as follows: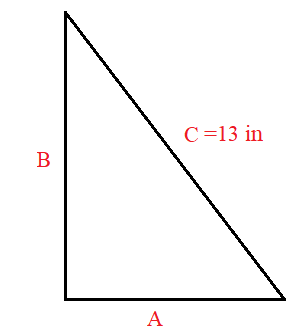 From the Pythagoras theorem A2 + B2= C2, we can look for a combination of A and B that when the squares of A and B are summed give a square of 13.  Mathematically,

But C=13 inches


If we take A=5 inches and B=12 inches, then



Next, we take A=2.5 inches, B=6 inches



Next, we take A=2.5 inches, B=4 inches

6.25+16=169

22.25≠169

Taking A=5 inches and B=8 inches



From the above computation, the combination of A=5 inches and B=12 inches give a triangle with a hypothenuse of 13 inches.
Correct Answer is D
Explanation
We solve the problem by first finding the amount of gallons needed for the whole trip then find the cost of the gallon.
The car uses 1 gallon to cover 25 miles, which is same as:

Now, in 3000 miles, the car will use how many gallons of gasoline?

A trip of 3000 miles will need 120 gallons. And to find the cost of 120 gallons, we proceed as follows:

The family will spend $199.20 to drive for 3000 miles.
This question was extracted from the actual TEAS Exam. Ace your TEAS exam with the actual TEAS 7 questions, Start your journey with us today
Visit Naxlex, the Most Trusted TEAS TEST Platform With Guaranteed Pass of 90%.
Money back guarantee if you use our service and fail the actual exam. Option of personalised live tutor on your area of weakness.