Which sequence describes the hierarchy level of biological organization?
A.
Kingdom, phylum, class, order, family, genus, and species
B.
Genus, class, kingdom, species, order, phylum, and family
C.
Genus, class, kingdom, species, order, phylum, and family
D.
Species, kingdom, genus, class, family, phylum, and order
Correct Answer : A
Taxonomy is the process of classifying, describing, and naming organisms. There are seven levels in the Linnaean taxonomic system, starting with the broadest level, kingdom, and ending with the species level. For example, in the image the genus level contains two types of bears, but the species level shows one type. Additionally, organisms in each level are found in the level above it. For example, organisms in the order level are part of the class level. This classification system is based on physical similarities across living things. It does not account for molecular or genetic similarities.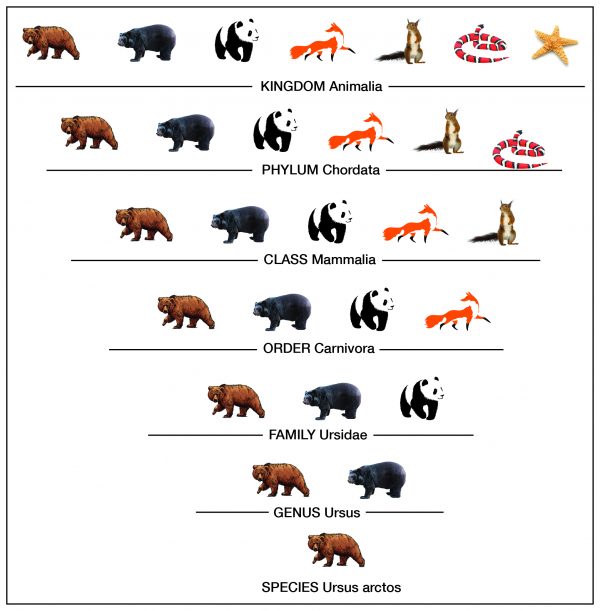 TEAS 7 Exam Quiz Bank
HESI A2 Exam Quiz Bank
Find More Questions 📚
$69/ months
Teas 7 Questions: We got the latest updated TEAS 7 questions
100% Money Refund: 100% money back guarantee if you take our full assessment pass with 80% and fail the actual exam.
Live Tutoring: Fully customized live tutoring lessons.
Guaranteed A Grade: All students who use our services pass with 90% guarantee.
Looking For TEAS Exam Help?
Naxlex is here for you and guarantees you an A on your exams. Furthermore, you only pay after results.
Related Questions
Correct Answer is A
Explanation
Robert Hooke discovered the first cells in the mid-eighteenth century. The cell theory is a theory because it is supported by a significant number of experimental findings. The cell theory took many years to be developed because microscopes were not powerful enough to make such observations.
This theory, or in-depth explanation, about cells consists of three parts:
All living things are composed of one or more cells.
Cells are alive and represent the basic unit of life.
All cells are produced from pre-existing cells.
Correct Answer is D
Explanation
The primary function of the respiratory system is to provide oxygen to and remove carbon dioxide from the body. In addition to gas exchange, the respiratory system enables a person to breathe. Breathing, or inhalation, is essential to life. It is the mechanism that provides oxygen to the body. Without oxygen, cells are unable to perform their functions necessary to keep the body alive. The primary muscle of inspiration is the diaphragm. Known as the chest cavity, this dome shaped structure flattens when it contracts. The rib cage moves outward, allowing outside air to be drawn into the lungs. During relaxation, the diaphragm returns to its dome shape and the rib cage moves back to its natural position. This causes the chest cavity to push air out of the lungs.
The respiratory system can be functionally divided into two parts:
Air-conducting portion: Air is delivered to the lungs. This region consists of the upper and lower respiratory tract—specifically, the larynx, trachea, bronchi, and bronchioles.
Gas exchange portion: Gas exchange takes place between the air and the blood. This portion includes the lungs, alveoli, and capillaries.
Correct Answer is D
Explanation
A person can be a universal blood donor or acceptor. A universal blood donor has type O blood, while a universal blood acceptor has type AB blood.
There are several different types or groups of blood, andthe major groups are A, B, AB, and O. Blood group is a way to classify blood according to inherited differences of red blood cellantigensfound on the surface of a red blood cell. The type ofantibodyin blood also identifies a particular blood group. Antibodies are proteins found in the plasma. They function as part of the body's natural defense to recognize foreign substances and alert the immune system.

Depending on which antigen is inherited, parental offspring will have one of the four major blood groups. Collectively, the following major blood groups comprise the ABO system:
Blood group A: Displays type A antigens on the surface of a red blood cell and contains B antibodies in the plasma.
Blood group B: Displays type B antigens on the red blood cell's surface and contains A antibodies in the plasma.
Blood group O: Does not display A or B antigens on the surface of a red blood cell. Both A and B antibodies are in the plasma.
Blood group AB: Displays type A and B antigens on the red blood cell's surface, but neither A nor B antibodies are in the plasma
In addition to antigens, the Rh factor protein may exist on a red blood cell's surface. Because this protein can be either present (+) or absent (-), it increases the number of major blood groups from four to eight: A+, A-, B+, B-, O+, O-, AB+, and AB-.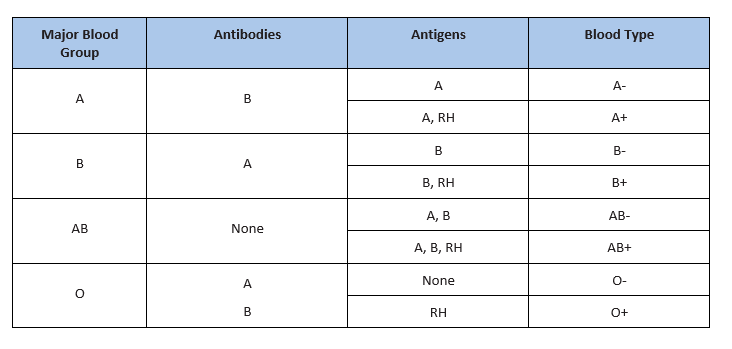 Correct Answer is B
Explanation
Mendel was accurately able to predict the patterns of heredity by studying rules related to genetics. These rules helped shape his theory of heredity. Heredity is the characteristics offspring inherit from their parents.
From experiments with garden peas, Mendel developed a simple set of rules that accurately predicted patterns of heredity. He discovered that plants eitherself-pollinateorcross-pollinate, when the pollen from one plant fertilizes the pistil of another plant. He also discovered that traits are eitherdominantorrecessive. Dominant traits are expressed, and recessive traits are hidden.
Mendel's Theory of Heredity
To explain his results, Mendel proposed a theory that has become the foundation of the science of genetics. The theory has five elements:
Parents do not transmit traits directly to their offspring. Rather, they pass on units of information calledgenes.
For each trait, an individual has two factors: one from each parent. If the two factors have the same information, the individual ishomozygousfor that trait. If the two factors are different, the individual isheterozygousfor that trait. Each copy of a factor, orgene, is called anallele.
The alleles determine the physical appearance, orphenotype. The set of alleles an individual has is itsgenotype.
An individual receives one allele from each parent.
The presence of an allele does not guarantee that the trait will be expressed.
Correct Answer is B
Explanation
Nitrogen and oxygen are both nonmetals, which means they will share electrons in a covalent bond. For example, two oxygen atoms form a double bond, in which two pairs of electrons (four electrons total) are shared. Similarly, two nitrogen atoms form a molecule with a triple bond, in which three pairs of electrons (six electrons total) are shared. 

Correct Answer is B
Explanation
In this reaction, chlorine (Cl2) is an element in the reaction that replaces iodine in the compound sodium iodide (NaI). This allows chlorine to form a compound with sodium (NaCl) and leaves iodine (I2) as an element.
Synthesisreactions involve two or more reactants (A and B) combining to form one product (AB). In the example provided, hydrogen (H2) and oxygen (O2) begin as separate elements. At the end of the reaction, the hydrogen and oxygen atoms are bonded in a molecule of water (H2O).
Decompositionreactions have only one reactant (AB) that breaks apart into two or more products (A and B). In the example above, hydrogen peroxide (H2O2) breaks apart into two smaller molecules: water (H2O) and oxygen (O2).
Single-replacementreactions involve two reactants, one compound (AB) and one element (C). In this type of reaction, one element replaces another to form a new compound (AC), leaving one element by itself (B). In the example, zinc replaces hydrogen in hydrochloric acid (HCl). As a result, zinc forms a compound with chlorine, zinc chloride (ZnCl2), and hydrogen (H2) is left by itself.
Double-replacementreactions involve two reactants, both of which are compounds made of two components (AB and CD). In the example, silver nitrate, composed of silver (Ag1+) and nitrate (NO31-) ions, reacts with sodium chloride, composed of sodium (Na1+) and chloride (Cl1-) ions. The nitrate and chloride ions switch places to produce two compounds that are different from those in the reactants.
Combustionreactions occur when fuels burn, and they involve specific reactants and products, as seen in the examples below. Some form of fuel that contains carbon and hydrogen is required. Examples of such fuels are methane, propane in a gas grill, butane in a lighter, and octane in gasoline. Notice that these fuels all react with oxygen, which is necessary for anything to burn. In all combustion reactions, carbon dioxide, water, and energy are produced. When something burns, energy is released, which can be felt as heat and seen as light.
Correct Answer is A
Explanation
Before mitosis or meiosis occurs, interphase must happen. This is when the cell cycle takes place. The cell cycle is an organized process divided into two phases:interphaseand theM (mitotic) phase. During interphase, the cell grows and copies its DNA. After the cell reaches the M phase, division of the two new cells can occur. The G1, S, and G2phases make up interphase.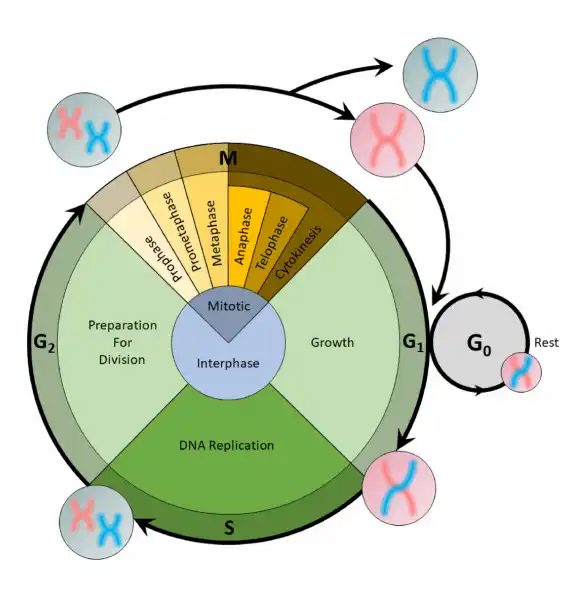 Correct Answer is D
Explanation
The cardiovascular system is closely associated with hematopoiesis because it includes the heart and blood vessels, which are responsible for circulating blood throughout the body. Hematopoiesis, the process of blood cell formation, primarily occurs in the bone marrow, which is part of the skeletal system. However, the cardiovascular system plays a crucial role in transporting these blood cells to various parts of the body once they are produced in the bone marrow.
So, while the skeletal system provides the site for hematopoiesis, the cardiovascular system is responsible for distributing the blood cells, making it the most closely associated system in this context.
Correct Answer is D
Explanation
Human intercourse consists of the male introducing sperm into the female's reproductive system. Sperm may then pass through the female's reproductive system to the Fallopian tubes where one sperm fertilizes an ovum, creating azygote. The zygote passes out of the Fallopian tube and implants into the uterine wall to begin gestation. Over nine months, the zygote develops and grows into an embryo and then a fetus. An infant is the baby that is born.
Correct Answer is D
Explanation
In solids, particles are usually closer together than in other states of matter because of the strong cohesive forces between the particles.
Solids, liquids, gases, and plasmas differ from one another in the amount of energy that the particles have and the strength of the cohesive forces that hold the particles together.
Cohesion is the tendency of particles of the same kind to stick to each other.
A solid has the lowest amount of energy because its particles are packed close together. Liquids have more energy than a solid, and gases have more energy than solids or liquids because the cohesive forces are very weak.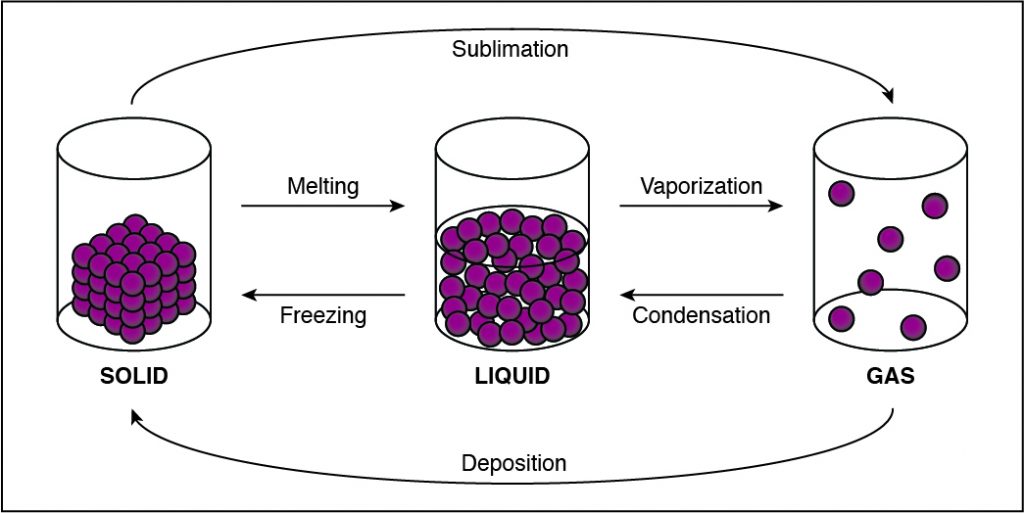 This question was extracted from the actual TEAS Exam. Ace your TEAS exam with the actual TEAS 7 questions, Start your journey with us today
Visit Naxlex, the Most Trusted TEAS TEST Platform With Guaranteed Pass of 90%.
Money back guarantee if you use our service and fail the actual exam. Option of personalised live tutor on your area of weakness.