Which statement best represents Mendel's experiments with garden peas?
A.
As a result, Mendel developed several theories that have since been disproved.
B.
Mendel realized he was on an incorrect track, which led him to other experimental media
C.
As a result, Mendel developed foundational conclusions that are still valued and followed today.
D.
Mendel collaborated with others interested in genetics to develop heredity guidelines we still use today
Correct Answer : D
Mendel developed theories of genetics that scientists around the world use today.
From experiments with garden peas, Mendel developed a simple set of rules that accurately predicted patterns of heredity. He discovered that plants either self-pollinate or cross-pollinate, when the pollen from one plant fertilizes the pistil of another plant. He also discovered that traits are either dominant or recessive. Dominant traits are expressed, and recessive traits are hidden.
Mendel's Theory of Heredity
To explain his results, Mendel proposed a theory that has become the foundation of the science of genetics. The theory has five elements:
Parents do not transmit traits directly to their offspring. Rather, they pass on units of information called genes.
For each trait, an individual has two factors: one from each parent. If the two factors have the same information, the individual is homozygous for that trait. If the two factors are different, the individual is heterozygous for that trait. Each copy of a factor, or gene, is called an allele.
The alleles determine the physical appearance, or phenotype. The set of alleles an individual has is its genotype.
An individual receives one allele from each parent.
The presence of an allele does not guarantee that the trait will be expressed.
TEAS 7 Exam Quiz Bank
HESI A2 Exam Quiz Bank
Find More Questions 📚
$69/ months
Teas 7 Questions: We got the latest updated TEAS 7 questions
100% Money Refund: 100% money back guarantee if you take our full assessment pass with 80% and fail the actual exam.
Live Tutoring: Fully customized live tutoring lessons.
Guaranteed A Grade: All students who use our services pass with 90% guarantee.
Related Questions
Correct Answer is A
Explanation
Robert Hooke discovered the first cells in the mid-eighteenth century. The cell theory is a theory because it is supported by a significant number of experimental findings. The cell theory took many years to be developed because microscopes were not powerful enough to make such observations.
This theory, or in-depth explanation, about cells consists of three parts:
All living things are composed of one or more cells.
Cells are alive and represent the basic unit of life.
All cells are produced from pre-existing cells.
Correct Answer is D
Explanation
Kidneys makes urine isincorrect.Kidneys do not make urine. They help regulate water balance, regulate levels of electrolytes such as sodium and potassium, and eliminate metabolic wastes. Urine is a byproduct of these functions.
As a person ages, kidney tissue and filtration capacity increase isincorrect. As a person ages, the kidneys and bladder change. This can affect functions such as bladder control and how well the kidneys filter blood. Kidney changes range from a decrease in kidney tissue to decreased filtration capacity.
Kidneys help regulate water balance iscorrect.Kidneys help regulate water balance, regulate levels of electrolytes such as sodium and potassium, and eliminate metabolic wastes. Urine is a byproduct of these functions.
Regulates levels of electrolytes such as sodium and potassium iscorrect.There must be a continual balance of water and salt in the blood. The urinary system, specifically the kidneys, help maintain this balance. It also balances levels of metabolites or electrolytes such as sodium, potassium, and calcium.
Eliminates metabolic wastes iscorrect. Urea, creatinine, uric acid, and ammonium are the primary types of nitrogenous wastes excreted from the body. The urinary system also detects and excretes excess water from the blood and out of the body.
Correct Answer is C
Explanation
Because more solute could be added and dissolve, the solution has not yet reached its limit and is considered unsaturated. Because all the solute dissolves, the particles in the mixture are evenly distributed as a homogenous mixture.
Amixtureis when elements and compounds are physically, but not chemically, combined.
Ahomogeneousmixture is when substances mix evenly and it is impossible to see individual components. Aheterogeneousmixture is when the substances mix unevenly and it is possible to see individual components.
Asolutionis a type of homogeneous mixture that is formed when a solute dissolves in a solvent.
The concentration of a solution is the amount of a substance in a given amount of solution. Anunsaturatedsolution has the ability to dissolve more solute and asaturatedsolution has already reached the limit of solute it can dissolve.
Correct Answer is D
Explanation
In solids, particles are usually closer together than in other states of matter because of the strong cohesive forces between the particles.
Solids, liquids, gases, and plasmas differ from one another in the amount of energy that the particles have and the strength of the cohesive forces that hold the particles together.
Cohesion is the tendency of particles of the same kind to stick to each other.
A solid has the lowest amount of energy because its particles are packed close together. Liquids have more energy than a solid, and gases have more energy than solids or liquids because the cohesive forces are very weak.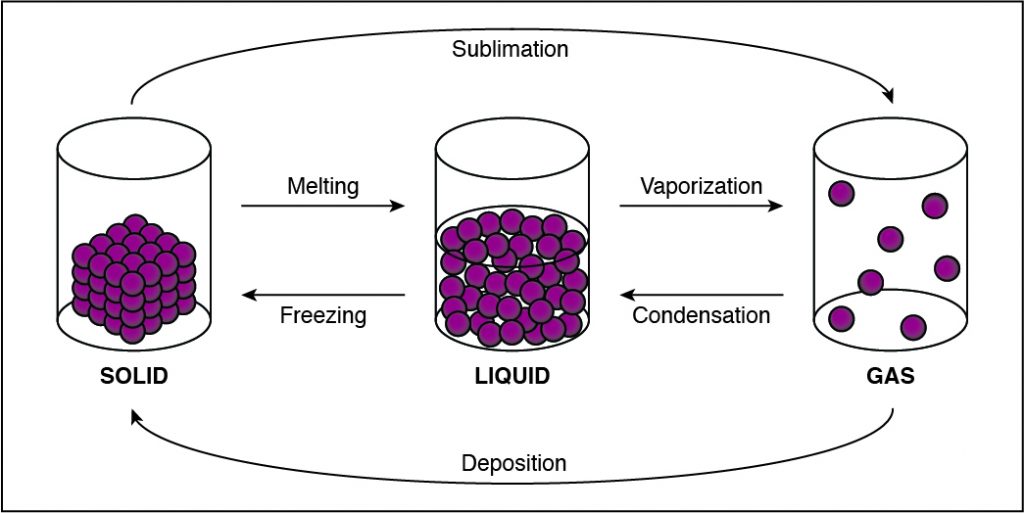 Correct Answer is C
Explanation
One step of the scientific method is to analyze information or data collected from the experiment to conclude whether the hypothesis is supported.
Recall that these make up thescientific method,described below:
Problem:The question created because of an observation.Example: Does the size of a plastic object affect how fast it naturally degrades in a lake?
Research:Reliable information available about what is observed.Example: Learn how plastics are made and understand the properties of a lake.
Hypothesis:A predicted solution to the question or problem.Example: If the plastic material is small, then it will degrade faster than a large particle.
Experiment:A series of tests used to evaluate the hypothesis. Experiments consist of anindependent variablethat the researcher modifies and adependent variablethat changes due to the independent variable. They also include acontrol groupused as a standard to make comparisons.

Example: Collect plastic particles both onshore and offshore of the lake over time. Determine the size of the particles and describe the lake conditions during this time period.

Observe:Analyze data collected during an experiment to observe patterns.

Example: Analyze the differences between the numbers of particles collected in terms of size.

Conclusion:State whether the hypothesis is rejected or accepted and summarize all results.
Communicate:Report findings so others can replicate and verify the results.
Correct Answer is D
Explanation
Both litmus paper and a pH scale can be used to indicate whether a solution is acidic. However, a pH scale can also determine the strength of an acid.
Researchers can determine the strength of an acid or a base by measuring the pH of a solution. The pH value describes how acidic or basic a solution is. On pH scale, shown below, if the number is less than 7 the solution is acidic. A pH greater than 7 means the solution is basic. When the pH is exactly 7, the solution is neutral.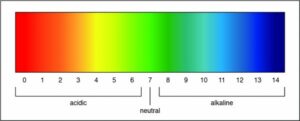 Correct Answer is C
Explanation
Theaging processaffects hormone activity in one of three ways: their secretion can decrease, remain unchanged, or increase.
Hormones thatdecrease secretioninclude the following:
Estrogen (in women)
Testosterone (in men)
Growth hormone
Melatonin
Inwomen, the decline in estrogen levels leads to menopause. Inmen, testosterone levels usually decrease gradually. Decreased levels of growth hormone may lead to decreased muscle mass and strength. Decreased melatonin levels may play an important role in the loss of normal sleep-wake cycles (circadian rhythms) with aging.
Hormones that usually remainunchangedorslightly decreaseinclude the following:
Cortisol
Insulin
Thyroid hormones
Hormones that mayincrease secretionslevels include the following:
Parathyroid hormone
Follicle-stimulating hormone (FSH)
Luteinizing hormone (LH)
Norepinephrine
Epinephrine, in the very old
Correct Answer is B
Explanation
Nitrogen and oxygen are both nonmetals, which means they will share electrons in a covalent bond. For example, two oxygen atoms form a double bond, in which two pairs of electrons (four electrons total) are shared. Similarly, two nitrogen atoms form a molecule with a triple bond, in which three pairs of electrons (six electrons total) are shared. 

Correct Answer is B
Explanation
Blood continually flows in one direction, beginning in the heart and proceeding to the arteries, arterioles, and capillaries. When blood reaches the capillaries, exchanges occur between blood and tissues. After this exchange happens, blood is collected into venules, which feed into veins and eventually flow back to the heart's atrium. The heart must relax between two heartbeats for blood circulation to begin.
Two types of circulatory processes occur in the body:
Systemic circulation
The pulmonary vein pushes oxygenated blood into the left atrium.
As the atrium relaxes, oxygenated blood drains into the left ventricle through the mitral valve. 3. The left ventricle pumps oxygenated blood to the aorta.
Blood travels through the arteries and arterioles before reaching the capillaries that surround the tissues.
Pulmonary circulation
Two major veins, the Superior Vena Cava and the Inferior Vena Cava, brings deoxygenated blood from the upper and lower half of the body.
Deoxygenated blood is pooled into the right atrium and then sent into the right ventricle through the tricuspid valve, which prevents blood from flowing backward.
The right ventricle contracts, causing the blood to be pushed through the pulmonary valve into the pulmonary artery.
Deoxygenated blood becomes oxygenated in the lungs.
Oxygenated blood returns from the lungs to the left atrium through the pulmonary veins.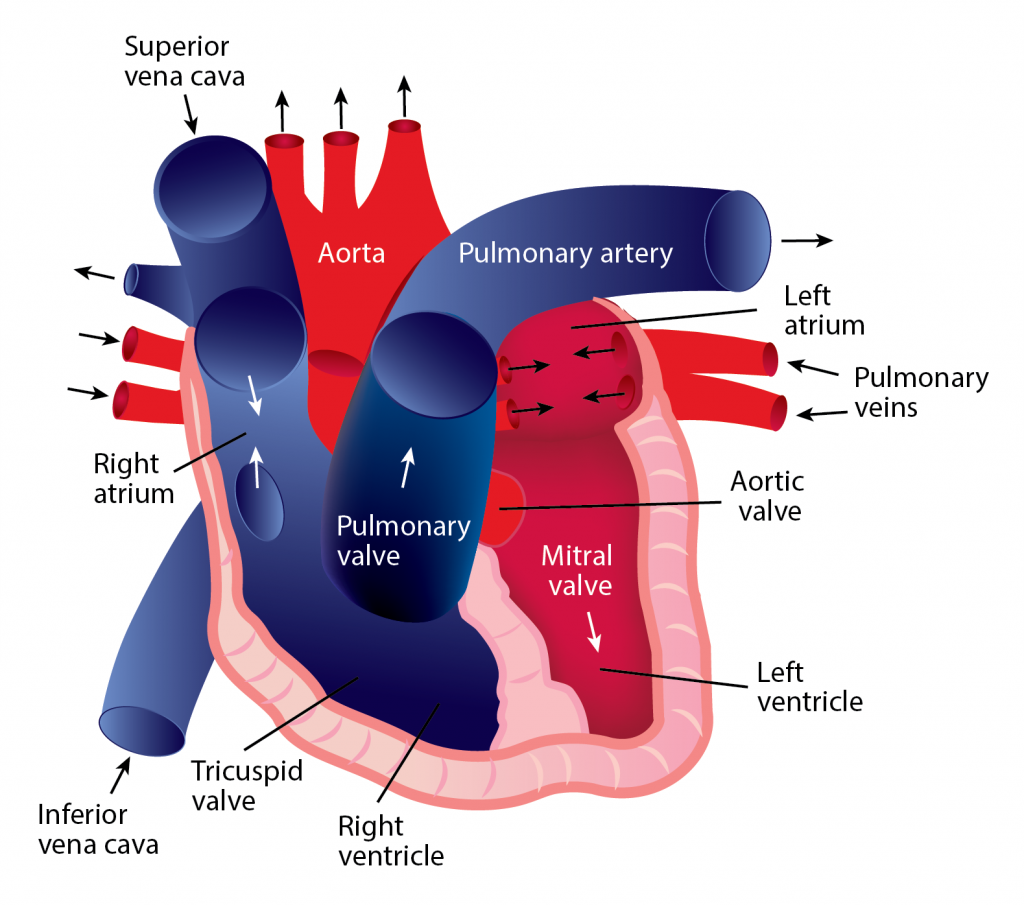 Correct Answer is D
Explanation
A person can be a universal blood donor or acceptor. A universal blood donor has type O blood, while a universal blood acceptor has type AB blood.
There are several different types or groups of blood, andthe major groups are A, B, AB, and O. Blood group is a way to classify blood according to inherited differences of red blood cellantigensfound on the surface of a red blood cell. The type ofantibodyin blood also identifies a particular blood group. Antibodies are proteins found in the plasma. They function as part of the body's natural defense to recognize foreign substances and alert the immune system.

Depending on which antigen is inherited, parental offspring will have one of the four major blood groups. Collectively, the following major blood groups comprise the ABO system:
Blood group A: Displays type A antigens on the surface of a red blood cell and contains B antibodies in the plasma.
Blood group B: Displays type B antigens on the red blood cell's surface and contains A antibodies in the plasma.
Blood group O: Does not display A or B antigens on the surface of a red blood cell. Both A and B antibodies are in the plasma.
Blood group AB: Displays type A and B antigens on the red blood cell's surface, but neither A nor B antibodies are in the plasma
In addition to antigens, the Rh factor protein may exist on a red blood cell's surface. Because this protein can be either present (+) or absent (-), it increases the number of major blood groups from four to eight: A+, A-, B+, B-, O+, O-, AB+, and AB-.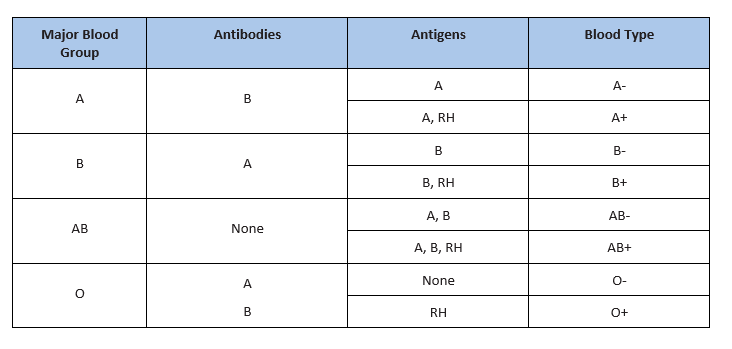 This question was extracted from the actual TEAS Exam. Ace your TEAS exam with the actual TEAS 7 questions, Start your journey with us today
Visit Naxlex, the Most Trusted TEAS TEST Platform With Guaranteed Pass of 90%.
Money back guarantee if you use our service and fail the actual exam. Option of personalised live tutor on your area of weakness.