Why did it take many years for the cell theory to be developed?
A.
Advancements in microscopy took place slowly.
B.
Cells were difficult to isolate for experimental analysis
C.
Researchers believed a cell formed from preexisting cells
D.
Scientists already proved that cells were essential for life.
Correct Answer : A
Robert Hooke discovered the first cells in the mid-eighteenth century. The cell theory is a theory because it is supported by a significant number of experimental findings. The cell theory took many years to be developed because microscopes were not powerful enough to make such observations.
This theory, or in-depth explanation, about cells consists of three parts:
All living things are composed of one or more cells.
Cells are alive and represent the basic unit of life.
All cells are produced from pre-existing cells.
TEAS 7 Exam Quiz Bank
HESI A2 Exam Quiz Bank
Find More Questions 📚
$69/ months
Teas 7 Questions: We got the latest updated TEAS 7 questions
100% Money Refund: 100% money back guarantee if you take our full assessment pass with 80% and fail the actual exam.
Live Tutoring: Fully customized live tutoring lessons.
Guaranteed A Grade: All students who use our services pass with 90% guarantee.
Looking For TEAS Exam Help?
Naxlex is here for you and guarantees you an A on your exams. Furthermore, you only pay after results.
Related Questions
Correct Answer is D
Explanation
Because it has more protons than electrons, this atom has a positive charge and can be classified as a cation. When a metal such as sodium reacts to become stable, it loses its valence electrons. At first, it is a neutral atom with 11 protons and 11 electrons. When it loses an electron, the number of protons does not change, and the atom has 11 protons and 10 electrons. Because there is one more positively charged proton, acationforms. A cation is an ion with a net positive charge.
Correct Answer is B
Explanation
Oral Cavityis the first part of the digestive system. It is bounded by the lips and cheeks and contains the teeth and tongue. Its primary function is to masticate, or chew, and moisten the food.
Pharynx, or throat, connects the mouth to the esophagus.
Esophagusis a muscular tube about 25 centimeters long. Food travels down it to the cardiac sphincter of the stomach.
Pyloric sphincter. The exit of the stomach.
Small intestineis about 6 meters long and consists of three parts: duodenum, jejunum, and ileum.
Large intestine, consists of the cecum, colon, rectum, and anal canal. The cecum is located where the small and large intestine meet. The primary function of the large intestine is to compress the waste and collect any excess water that can be recycled.
Colonis about 1.5 to 1.8 meters long and consists of four parts: the ascending, transverse, descending, and sigmoid colon.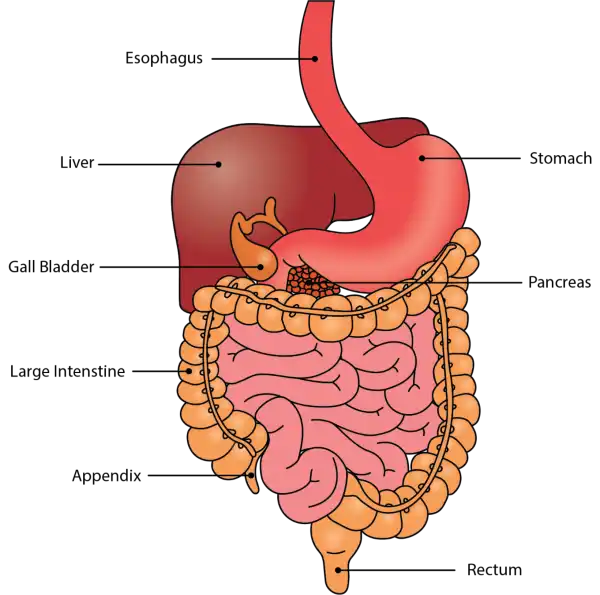 Correct Answer is D
Explanation
The cardiovascular system is closely associated with hematopoiesis because it includes the heart and blood vessels, which are responsible for circulating blood throughout the body. Hematopoiesis, the process of blood cell formation, primarily occurs in the bone marrow, which is part of the skeletal system. However, the cardiovascular system plays a crucial role in transporting these blood cells to various parts of the body once they are produced in the bone marrow.
So, while the skeletal system provides the site for hematopoiesis, the cardiovascular system is responsible for distributing the blood cells, making it the most closely associated system in this context.
Correct Answer is D
Explanation
Because this is a positive correlation, if the nutrient concentration increases or decreases, plant height will either increase or decrease accordingly.
While analyzing data, scientists tend to observe cause-and-effect relationships. These relationships can be quantified using correlations.Correlationsmeasure the amount of linear association between two variables. There are three types of correlations:
Positive correlation:
As one variable increases, the other variable also increases. This is also known as a direct correlation.
Negative correlation:
As one variable increases, the other decreases. The opposite is true if one variable decreases. A negative correlation is also known as an inverse correlation or an indirect correlation.
No correlation:
There is no connection or relationship between two variables.
Correct Answer is B
Explanation
In this reaction, chlorine (Cl2) is an element in the reaction that replaces iodine in the compound sodium iodide (NaI). This allows chlorine to form a compound with sodium (NaCl) and leaves iodine (I2) as an element.
Synthesisreactions involve two or more reactants (A and B) combining to form one product (AB). In the example provided, hydrogen (H2) and oxygen (O2) begin as separate elements. At the end of the reaction, the hydrogen and oxygen atoms are bonded in a molecule of water (H2O).
Decompositionreactions have only one reactant (AB) that breaks apart into two or more products (A and B). In the example above, hydrogen peroxide (H2O2) breaks apart into two smaller molecules: water (H2O) and oxygen (O2).
Single-replacementreactions involve two reactants, one compound (AB) and one element (C). In this type of reaction, one element replaces another to form a new compound (AC), leaving one element by itself (B). In the example, zinc replaces hydrogen in hydrochloric acid (HCl). As a result, zinc forms a compound with chlorine, zinc chloride (ZnCl2), and hydrogen (H2) is left by itself.
Double-replacementreactions involve two reactants, both of which are compounds made of two components (AB and CD). In the example, silver nitrate, composed of silver (Ag1+) and nitrate (NO31-) ions, reacts with sodium chloride, composed of sodium (Na1+) and chloride (Cl1-) ions. The nitrate and chloride ions switch places to produce two compounds that are different from those in the reactants.
Combustionreactions occur when fuels burn, and they involve specific reactants and products, as seen in the examples below. Some form of fuel that contains carbon and hydrogen is required. Examples of such fuels are methane, propane in a gas grill, butane in a lighter, and octane in gasoline. Notice that these fuels all react with oxygen, which is necessary for anything to burn. In all combustion reactions, carbon dioxide, water, and energy are produced. When something burns, energy is released, which can be felt as heat and seen as light.
Correct Answer is B
Explanation
Mendel was accurately able to predict the patterns of heredity by studying rules related to genetics. These rules helped shape his theory of heredity. Heredity is the characteristics offspring inherit from their parents.
From experiments with garden peas, Mendel developed a simple set of rules that accurately predicted patterns of heredity. He discovered that plants eitherself-pollinateorcross-pollinate, when the pollen from one plant fertilizes the pistil of another plant. He also discovered that traits are eitherdominantorrecessive. Dominant traits are expressed, and recessive traits are hidden.
Mendel's Theory of Heredity
To explain his results, Mendel proposed a theory that has become the foundation of the science of genetics. The theory has five elements:
Parents do not transmit traits directly to their offspring. Rather, they pass on units of information calledgenes.
For each trait, an individual has two factors: one from each parent. If the two factors have the same information, the individual ishomozygousfor that trait. If the two factors are different, the individual isheterozygousfor that trait. Each copy of a factor, orgene, is called anallele.
The alleles determine the physical appearance, orphenotype. The set of alleles an individual has is itsgenotype.
An individual receives one allele from each parent.
The presence of an allele does not guarantee that the trait will be expressed.
Correct Answer is A
Explanation
Before mitosis or meiosis occurs, interphase must happen. This is when the cell cycle takes place. The cell cycle is an organized process divided into two phases:interphaseand theM (mitotic) phase. During interphase, the cell grows and copies its DNA. After the cell reaches the M phase, division of the two new cells can occur. The G1, S, and G2phases make up interphase.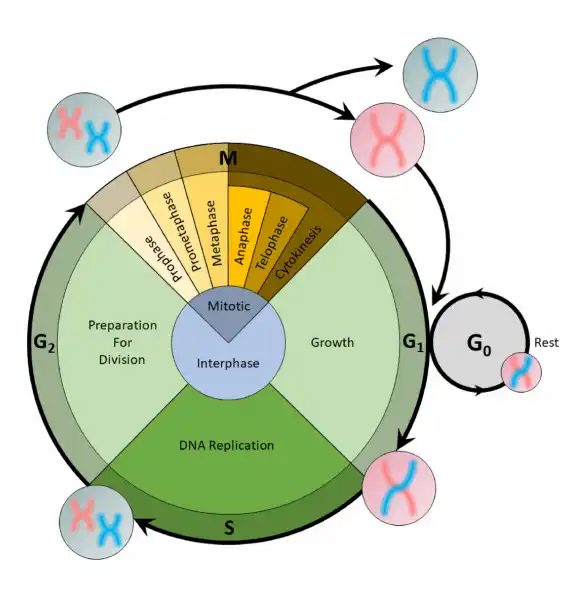 Correct Answer is D
Explanation
Kidneys makes urine isincorrect.Kidneys do not make urine. They help regulate water balance, regulate levels of electrolytes such as sodium and potassium, and eliminate metabolic wastes. Urine is a byproduct of these functions.
As a person ages, kidney tissue and filtration capacity increase isincorrect. As a person ages, the kidneys and bladder change. This can affect functions such as bladder control and how well the kidneys filter blood. Kidney changes range from a decrease in kidney tissue to decreased filtration capacity.
Kidneys help regulate water balance iscorrect.Kidneys help regulate water balance, regulate levels of electrolytes such as sodium and potassium, and eliminate metabolic wastes. Urine is a byproduct of these functions.
Regulates levels of electrolytes such as sodium and potassium iscorrect.There must be a continual balance of water and salt in the blood. The urinary system, specifically the kidneys, help maintain this balance. It also balances levels of metabolites or electrolytes such as sodium, potassium, and calcium.
Eliminates metabolic wastes iscorrect. Urea, creatinine, uric acid, and ammonium are the primary types of nitrogenous wastes excreted from the body. The urinary system also detects and excretes excess water from the blood and out of the body.
Correct Answer is D
Explanation
In solids, particles are usually closer together than in other states of matter because of the strong cohesive forces between the particles.
Solids, liquids, gases, and plasmas differ from one another in the amount of energy that the particles have and the strength of the cohesive forces that hold the particles together.
Cohesion is the tendency of particles of the same kind to stick to each other.
A solid has the lowest amount of energy because its particles are packed close together. Liquids have more energy than a solid, and gases have more energy than solids or liquids because the cohesive forces are very weak.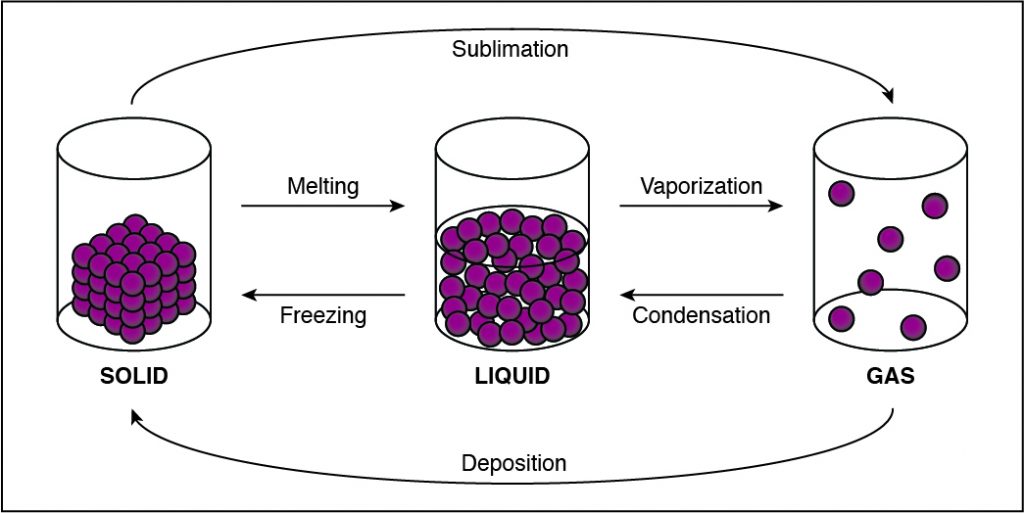 Correct Answer is C
Explanation
Because more solute could be added and dissolve, the solution has not yet reached its limit and is considered unsaturated. Because all the solute dissolves, the particles in the mixture are evenly distributed as a homogenous mixture.
Amixtureis when elements and compounds are physically, but not chemically, combined.
Ahomogeneousmixture is when substances mix evenly and it is impossible to see individual components. Aheterogeneousmixture is when the substances mix unevenly and it is possible to see individual components.
Asolutionis a type of homogeneous mixture that is formed when a solute dissolves in a solvent.
The concentration of a solution is the amount of a substance in a given amount of solution. Anunsaturatedsolution has the ability to dissolve more solute and asaturatedsolution has already reached the limit of solute it can dissolve.
This question was extracted from the actual TEAS Exam. Ace your TEAS exam with the actual TEAS 7 questions, Start your journey with us today
Visit Naxlex, the Most Trusted TEAS TEST Platform With Guaranteed Pass of 90%.
Money back guarantee if you use our service and fail the actual exam. Option of personalised live tutor on your area of weakness.