A family is planning a driving vacation and is estimating the price of gasoline. While on the vacation, the family plans to drive 3,000 miles. The car gets about 25 miles per gallon, and the cost of gasoline is $1.66 per gallon. Which of the following is the estimate for cost of gasoline for the vacation?
Correct Answer : D
We solve the problem by first finding the amount of gallons needed for the whole trip then find the cost of the gallon.
The car uses 1 gallon to cover 25 miles, which is same as:

Now, in 3000 miles, the car will use how many gallons of gasoline?

A trip of 3000 miles will need 120 gallons. And to find the cost of 120 gallons, we proceed as follows:

The family will spend $199.20 to drive for 3000 miles.
TEAS 7 Exam Quiz Bank
HESI A2 Exam Quiz Bank
Find More Questions 📚
$69/ months
Teas 7 Questions: We got the latest updated TEAS 7 questions
100% Money Refund: 100% money back guarantee if you take our full assessment pass with 80% and fail the actual exam.
Live Tutoring: Fully customized live tutoring lessons.
Guaranteed A Grade: All students who use our services pass with 90% guarantee.
Looking For TEAS Exam Help?
Naxlex is here for you and guarantees you an A on your exams. Furthermore, you only pay after results.
Related Questions
Correct Answer is B
Explanation
A dependent variable is one that when another variable changes, it also changes. In our case, the insurance premium changes if the age, model, mileage of car changes. Thus, insurance premium is the dependent variable while the other three are independent variable.
Correct Answer is C
Explanation
We need to perform a series of numerical dimensional analysis to find the number of bags sugar needed for 300 people.
We are told that 50 people need 4 cups of sugar. This can be interpretated as:

Or

Also, one bag of sugar contains 6 cups. This can also be presented as:

Or

We use the second option relating number of people and cups, and second option relating cups of sugar and bag of sugar to find for number of bags of sugar needed for 300 people.

Therefore, 300 people will need 4 bags of sugar.
Correct Answer is D
Explanation
We can interpret 'cannot exceed" as less than '<'. Therefore, in our inequality, the symbol < must be included. Now let's convert the word problem into a mathematical inequality.
Money spent on supplies=s
Money spent on textbooks=t
Total money spent=money spent on supplies + money spent on textbooks
Total money spent = s+t
But the money spent cannot exceed $12,000. Then,
s+t <$12,000.
However the money spent can still be equal to $12000, as it has not exceeded it.
Therefore, therequired inequality is s + t <= $12,000.
Correct Answer is B
Explanation
Here we are required to find the area of the square of sides 3.1 m. The square is a four-sided figure with each side equal and opposite sides making 90 degrees.
Area of the square =side*side
Side=3.1 m
Area of the square=3.1 m *3.1 m=9.61 m2
Note: 3.1 + 3.1 = 6.2 which is a wrong answer.
Correct Answer is D
Explanation
we use the US customary system of units' equivalent to convert from yards to inches. We know that 1yard=3 ft, and 1 ft =12 inches.
First, convert 2 ¾ into an improper fraction.

Then,

Correct Answer is A
Explanation
In this problem, we take the triangle as a right-angled triangle and label it as follows: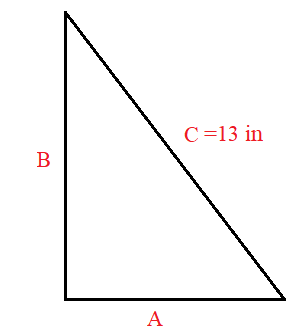 From the Pythagoras theorem A2 + B2= C2, we can look for a combination of A and B that when the squares of A and B are summed give a square of 13.  Mathematically,

But C=13 inches


If we take A=5 inches and B=12 inches, then



Next, we take A=2.5 inches, B=6 inches



Next, we take A=2.5 inches, B=4 inches

6.25+16=169

22.25≠169

Taking A=5 inches and B=8 inches



From the above computation, the combination of A=5 inches and B=12 inches give a triangle with a hypothenuse of 13 inches.
Correct Answer is A
Explanation
We are given a mix of fractions and decimals and to compare the numbers, we convert the given decimals to fractions.
4.4 becomes 44/10
4.25 becomes 425/100
Now the set of fractions for comparison are: 9/2, 10/3, 44/10, and 425/100. The least common denominator for 2, 3 and 10 is 300. Then,
9/2*300=1350
10/3*300=1000
44/10*300=1320
425/10*300=1275
From the above products, 9/2 gives the greatest value when the fractions are compared with the least common denominator of the given denominators.
Correct Answer is B
Explanation
The best way to display the frequency of each day of the week when students get up after 8 a.m. is by using a bar graph. Bar graphs are well-suited for representing categorical data, where each day of the week is a separate category, and the height of each bar corresponds to the count or frequency of students waking up late on that specific day.
Note: Histograms, on the other hand, are more appropriate for visualizing continuous or numerical data and are not ideal for categorical data like days of the week.Histograms are useful for understanding the distribution of data, identifying patterns, and assessing the shape of the data distribution, such as whether it's normally distributed, skewed, or has multiple modes.
As you can see below, the Histogram is used to depict a pattern/continuous data. While a bar graph does just fine even with discrete data.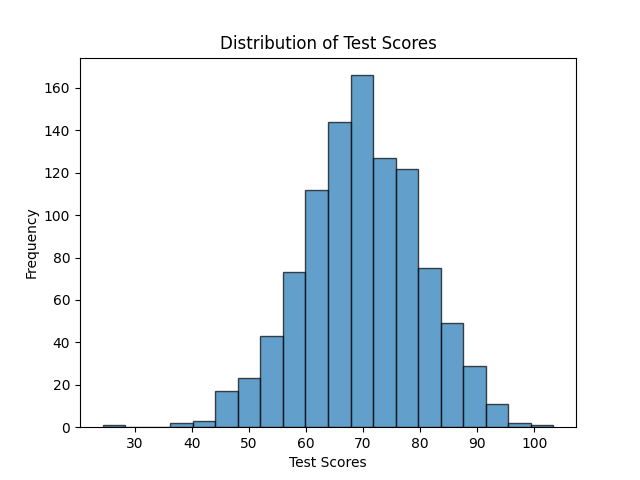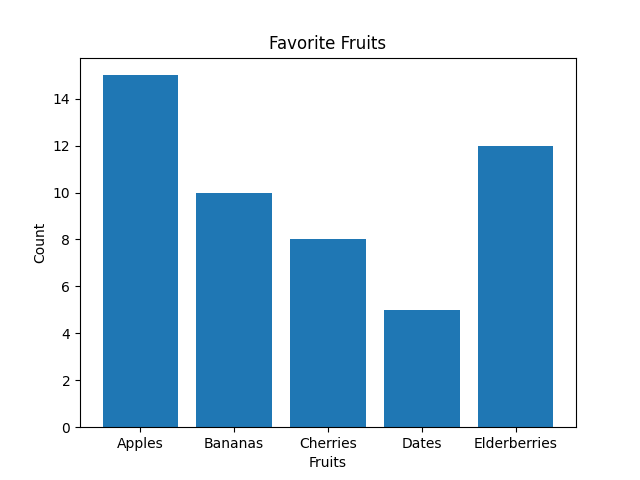 Correct Answer is B
Explanation
The whole pie chart represents 100%, which we use together with the given percentages to find the respective different sports. Note that 100% is equal to 500 surveyed students. The, the number of teenagers who prefer:
Soccer

Hockey

Football

Basketball

Other

From the evaluations above, 90 teenagers love soccer, 80 love hockey, 190 teenagers love football, 120 teenagers love basketball, and 20 teenagers love others.
Correct Answer is A
Explanation
to solve for x, we order like terms together and proceed as follows:
4x-3-5x=24
Add 3 to both sides of the equation
4x-3+3-5x=24+3
4x+3-3-5x=27
4x-5x=27
-x=27
Divide both sides by -1
-x/-1=27/-1
x= -27
Thus, the unknown value of x is -27
This question was extracted from the actual TEAS Exam. Ace your TEAS exam with the actual TEAS 7 questions, Start your journey with us today
Visit Naxlex, the Most Trusted TEAS TEST Platform With Guaranteed Pass of 90%.
Money back guarantee if you use our service and fail the actual exam. Option of personalised live tutor on your area of weakness.