An athlete runs 7 miles in 45 minutes and then changes their pace to run the next 3 miles in 15 minutes. Overall, what is the average time in minutes it takes the athlete to run 1 mile?
Correct Answer : C
to find the average time the athlete runs in 1 mile; we find total distance and total time the athlete takes in running.
Total distance run by athlete=7+3=10 miles
Total time=45+15 =60 minutes
The athlete runs 10 miles in 60 minutes. For the athlete to cover 1 mile, he will run for a time less than 60 minutes. Thus, in 1 mile, the athlete takes:

So, in 6 minutes, the athlete covers 1 mile.
TEAS 7 Exam Quiz Bank
HESI A2 Exam Quiz Bank
Find More Questions 📚
$69/ months
Teas 7 Questions: We got the latest updated TEAS 7 questions
100% Money Refund: 100% money back guarantee if you take our full assessment pass with 80% and fail the actual exam.
Live Tutoring: Fully customized live tutoring lessons.
Guaranteed A Grade: All students who use our services pass with 90% guarantee.
Looking For TEAS Exam Help?
Naxlex is here for you and guarantees you an A on your exams. Furthermore, you only pay after results.
Related Questions
Correct Answer is D
Explanation
To form an equation from the word problem, first break the given statement into smaller statements.
First, we are given the width of the rectangle as x. We are told, the length is three times width. Mathematically, this means
Length=3*width=3*x=3x
Again, the length is 4 less than 3 times width of the rectangle. Thus, the length of rectangle in terms of width becomes:
Length =3x-4
This is the required equation.
Correct Answer is D
Explanation
Scatter plots can depict three correlations: positive, negative and no correlation. A positive correlation scatter plot reveals that as one variable increases, the other variable also increases as shown below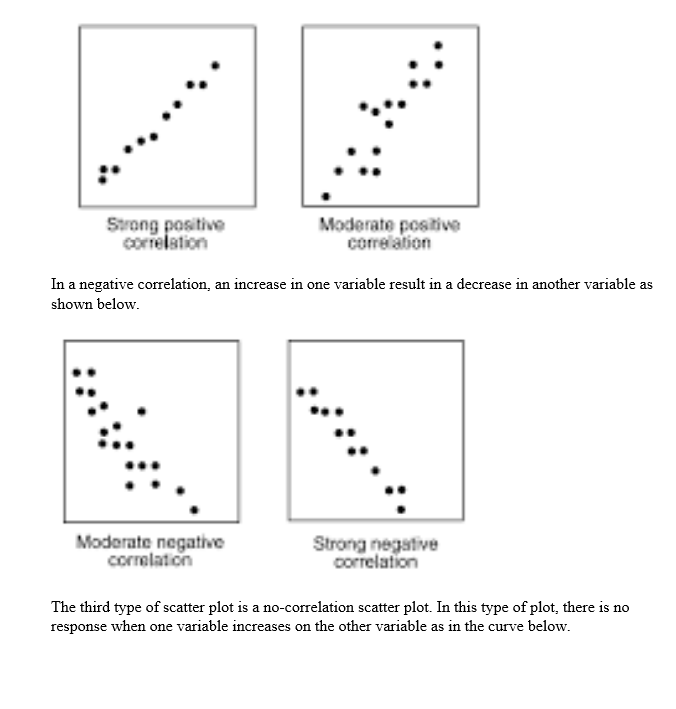 Correct Answer is B
Explanation
To solve this problem, we need to have all options in fraction form.
74 
 95 = 

7/8 = 3/8
0.72 = 72/100
74% = 74/100
Now, find the least common denominator of 95, 8, and 100. The least common denominator is 3800, which we multiply by each fraction as follows:
74/95*3800=2960
7/8*3800=3325
72/100*3800=2736
74/100*3800=2812
We can see that the fraction 7/8 is the greatest among the given options.
Correct Answer is A
Explanation
A ratio is of the form a : b but can also be converted to a fraction of the form a/b, where b is not equal to zero. Besides, to in ration means per in fraction form.
In the class of 40 students, 22 are girls and 18 are boys. Thus, the ratio of girls to boys becomes:
The above fraction can be reduced further since 2 is a common factor in both 22 and 18. Thus

In ratio form, girls: boys=11:9
Thus, the ratio of girls to boys in a class of 40 students is 11 to 9.
Correct Answer is D
Explanation
We are required to find the percent equivalent of the given fraction.
We multiply 7/8 by 100 to convert it to percent. You convert fraction to percent.

Thus 7/8 is equal to 87.5%.
Correct Answer is C
Explanation
In this problem, we need to find the amount of gratuity the couple will leave. The gratuity is 16% of the total bill. Before solving the problem, the following are terms and their meaning in percent problems:
Is means equals
Of means multiply
What means unknown (variable)
If we let x be the amount of gratuity, then translating the given problem into a mathematical equation becomes:

Now we evaluate the above equation noting that of means multiply.

So, the value of x=9.376 and to the nearest cent, x=9.38
There, a couple will leave a gratuity of $9.38.
Correct Answer is A
Explanation
We solve for the value of x by following the order of operations
3(x-2)=15
Divide both sides of the equation by 3


Add 2 to both sides of the equation


Thus, the value of x is 8.
Correct Answer is D
Explanation
We two conversions when asked to convert between kg and lb
And
We need kg equivalent of 220 lb, therefore we use option 1 and carry out the conversions as follows:

Thus, 100kg is equal to 220lb.
Correct Answer is B
Explanation
To change between L and mL, the following two options are used.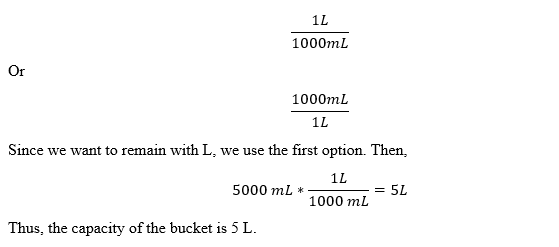 Correct Answer is B
Explanation
The initial step is to convert the decimal numbers into fractions.
5.2 becomes 52/10
5.15 becomes 515/100
Next, find the least common denominator of 3, 10, and 100, which is 300. We use this value and multiply each fraction.
7/3*300=700
52/10*300=1560
13/3*300=1300
515/100*300=1545
From the above, 1560 is the greatest value which corresponds to 52/10. Thus, 5.2 is the greatest value of all the choices given.
This question was extracted from the actual TEAS Exam. Ace your TEAS exam with the actual TEAS 7 questions, Start your journey with us today
Visit Naxlex, the Most Trusted TEAS TEST Platform With Guaranteed Pass of 90%.
Money back guarantee if you use our service and fail the actual exam. Option of personalised live tutor on your area of weakness.