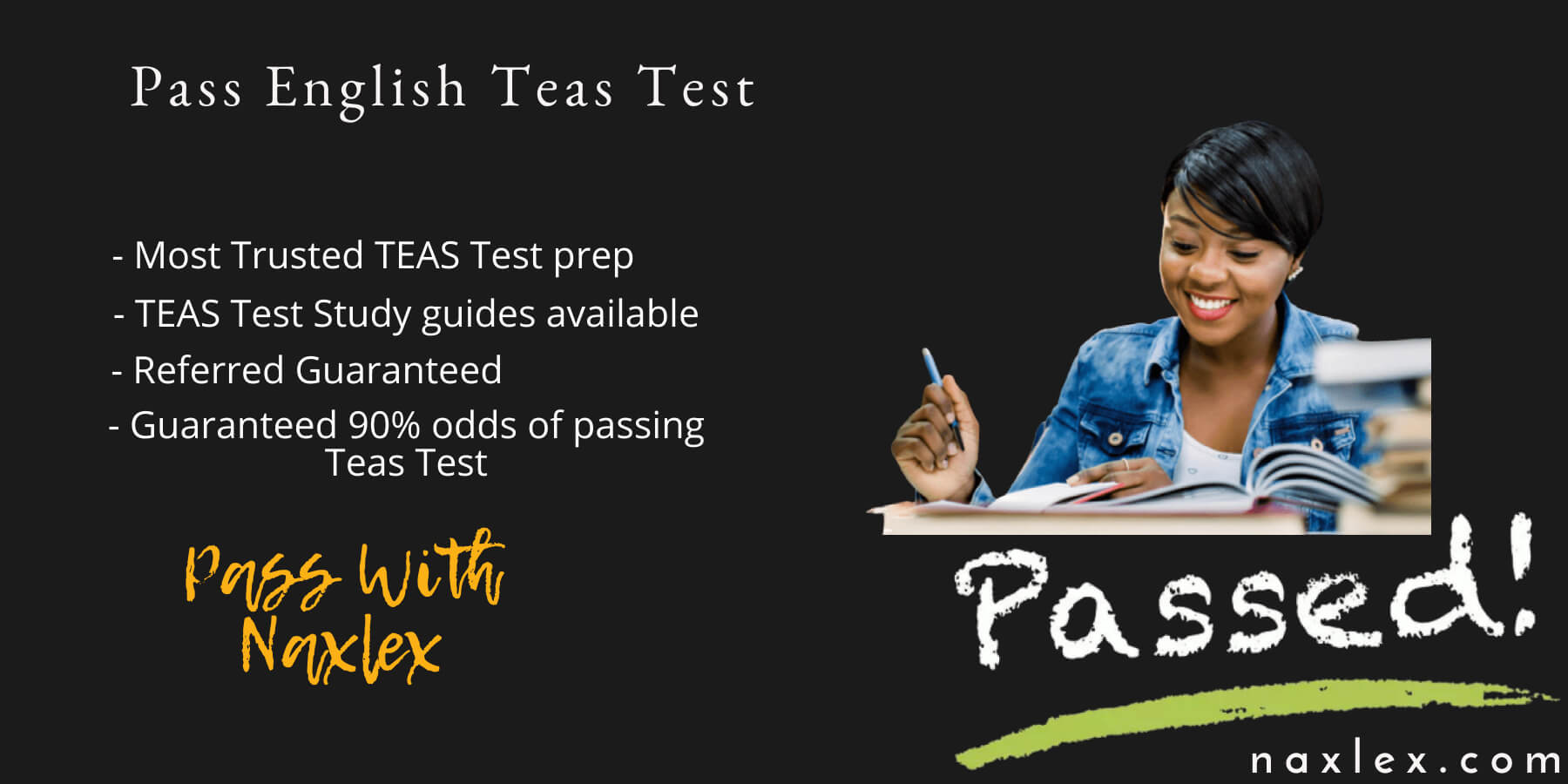 What are the English Questions on TEAS Test ?
TEAS English test will ask students questions about their language knowledge, Standard English conventions, and vocabulary acquisition. In every category, the students will have to answer particular set-off questions. Each type comprises a specific number of questions. Knowledge of the language section covers topics related to communicating and writing in English.
For example, the students must understand the difference between informal and formal writing . They will also have to know how to structure paragraphs. The section also covers grammar and different types of speech.
The vocabulary acquisition section focuses on the vocabulary of the student. Nursing students must show their mastery of various vocabulary words and how to use them. The exam may test the student's ability to use word parts to figure out what a particular word means.
TEAS English test has 3 subcategories to will be testing you on:
Knowledge of language

Conventions of standard English

Using language and vocabulary in expressing ideas
To ensure you increase your chances of passing the Teas English Test,you are advised to study the following topics:
Grammar rules

Punctuation rules

Spelling rules
The Number of Questions on English TEAS Test
The entire TEAS exam has 170 questions. English TEAS test contains 28 questions. All the multiple-choice questions prompt the students to choose the best possible answer. Students need to read through all the possible solutions, eliminate those they feel are wrong, and narrow down to one answer they feel is the best.
The students have 28 minutes to complete the test. Allotment of the time is continuous, as there is no subdivision of time across the different test areas.
From the 28 questions, 9 questions will be on conventions of Standard English. Another 9 will be on language knowledge. 6 will be on vocabulary acquisition, and 4 will be pretest questions.
The other TEAS Exam sections will make up 142 questions, which brings the total to 170 questions. The reading test contains 53 questions and has to be completed within 54 minutes. The mathematics section contains 36 questions that must be solved in 54 minutes. The science test contains 53 questions that students must tackle in 63 minutes. All the TEAS test sections have to be completed within 209 minutes.
TEAS Exam Passing Score
There is no set passing score for TEAS test . Every school has the freedom of setting its qualifying score for student admission. Students taking TEAS test should carry out research and know the minimum requirements of their school of choice.
Students must score at least 54% on each subject area despite no passing score. Every school has its policy on retake that outlines the number of attempts one is allowed to take per year. In most cases, the number is 3 attempts per year.
Tips for Passing English Teas Test
It would help if you studied adequately to improve your skills to increase your chances of passing the English TEAS test.
Here are essential tips that will help you pass your English TEAS test
General Test Info
Before you prepare, you need to know the general information about the English TEAS test and how to pass English TEAS Test. TEAS Test is computerized, and each section comprises a particular set of questions. In most cases, the English TEAS test will cover sentence structure, verb tenses, etc. Students will always have questions about vocabulary words and proper spelling.
In most TEAS English exams, the English section contains 55 questions that should be completed within 65 minutes. You can get an insight into the TEAS English test by asking previous or current nursing students. They will give ideas on the questions you will encounter and offer advice based on their experience.
Review Materials
It would help if you started preparing early to increase your chances of passing the Englsih TEAS Test. Early preparation will give you enough time to study and focus on areas that challenge you the most. Some students go for the TEAS guidebook to take them through the study process of the different sections. You can use various online grammar websites that will help you review your grammar levels. The online grammar sites will enable you to learn how to properly use semi-colons or different sentence parts. Naxlex serves as a good website that can also aid your preparation and help you pass english TEAS Test.
Form Study Groups
If you know other students preparing to take the TEAS English test, you can always form study groups with them. The study groups will enable you to write sentences without punctuation or spelling, or grammar mistakes. Your group members will try to identify and make necessary corrections. You can also create flashcards for different vocabulary words and ask your fellow members to identify their meanings.
During the Test
Ensure you read through the questions as you take the English TEAS Test. Some questions may need you to identify the trick to get the correct answer. For example, you can encounter a question with a synonym, two different words with the same meaning. All the possible solutions may look the same. If you do not pay attention when reading through, there is a high chance you will miss the difference. When looking at the possible answers, remember to cross out the answers you are sure are wrong. This will enable you to focus on finding the right answer.
TEAS English test contains several materials and rules you need to know. If you can start your preparations on time and make good use of the suitable study materials, how to pass English Teas Test will not be a problem. Remember to take advantage of the free Teas Practice Tests and the TEAS online courses to get the most out of your studies.