TEAS test (Test of Essential Academic Skills) is a basic exam used by nursing schools in the United States to assess the academic readiness of applicants to their nursing programs. The TEAS is used to test a student's proficiency in several academic areas, including reading, mathematics, science, and English language usage. We will look at some of the most common TEAS questions.
If you dream of becoming a professional nurse, prepare to pass the TEAS because it is only after passing that you will start your journey of becoming a professional nurse. The best and easiest way to practice and pass the TEAS is by ensuring you are enrolling for Naxlex TEAS practice tests. The exams are a replica of what to do during the TEAS exams. So don't miss your chance to pass the exam on the first attempt.
How is TEAS Test Done?
The TEAS test is done by students planning to enter nursing school, either at the undergraduate or graduate level. The exam is supposed to evaluate the student's knowledge and skills in areas considered essential for success in nursing school.
The online exam consists of 170 multiple-choice questions, which must be completed within 209 minutes.
Although most people hear about the TEAS Exam, they still have questions that make them dread taking this test. But you don't have anymore stick around and know more about TEAS.
Burning Questions About the TEAS
Most people rely on hearsay information, making them miss opportunities in life. The same case applies to the TEAS exam. Some students have shuttered their dreams of joining nursing school because they fear failing the TEAS.
Here are most questions about the TEAS exam
Can you use a Calculator on the TEAS?
Using a calculator during the TEAS exam depends on the specific policies of the testing center where the exam is being taken. Generally, testing centers will not allow you to bring your calculators into the testing room; instead, provide an on-screen calculator during the exam itself.
The on-screen calculator provided during the TEAS exam is a basic four-function calculator that can perform addition, subtraction, multiplication, and division. It also has a square root function. The other things you get in the exam room are paper and a pencil.
However, you must know that not all TEAS exam questions require a calculator. Some questions are easy, and you don't need a calculator. Try some TEAS practice test free questions on Naxlex.
How Many Questions are on the TEAS Test?
The TEAS test consists of 170 multiple-choice questions in four main content areas: Reading, Mathematics, Science, and English and Language Usage. The number of questions and time allotted for each section are as follows:
Reading: 53 questions (64 minutes)

Mathematics: has 36 questions (54 minutes)

Science: 53 questions (63 minutes)

English and Language Usage: 28 questions (28 minutes)
The total time allotted for the TEAS test is 209 minutes (3 hours and 29 minutes); you should know there's no time for tutorials and breaks.
Check Out: How to Study with a TEAS Practice Test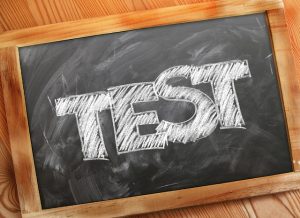 How can I Pass the TEAS Test the First Time?
Passing the TEAS test on the first attempt requires diligent preparation and a focused study approach. Here are practical tips that can help you pass the TEAS test on first time:
Understand the format and content of the test

: you should familiarize yourself with the TEAS test format. Go through the types of questions asked and the content areas likely covered in the exam. This will help you develop a targeted study plan.

Create a study plan: Plan your schedule and set achievable goals for each session. Break down the study areas and focus on the challenging topics where you need the most improvement.
Use study materials: There are many study materials available for the TEAS exam, such as review books, practice tests, and online resources. Use materials from Naxlex and get TEAS practice test free with the free trial. This will supplement your study plan and better understand the test content.
Practice time management

: Since the TEAS test is timed, practicing time management skills is important. Try to pace yourself during practice tests and work on improving your speed and accuracy.

Focus on your weak areas

: Spend extra time on the challenging content areas. Seek additional help from a tutor, teacher, or study group if necessary.

Stay calm and focused

: A day before the exam, try to stay calm and focused. Get a good night's sleep the night before and arrive at the testing center early. you should Take deep breaths and stay positive throughout the test.
Remember, passing the TEAS test requires consistent effort and dedication. With a solid study plan, the right study materials, and plenty of practice, you can increase your chances of passing the TEAS test on your first attempt.
How Many Times can you take TEAS Test?
This is one of the most common TEAS questions. The times you can take doing the TEAS test depends on the policies of the individual nursing programs you are applying to. Some nursing programs allow applicants to take the TEAS test only once per application cycle, while others allow multiple attempts within a certain time frame.
Most nursing programs generally allow applicants to take the TEAS test two to three times within a year. However, you must check with each nursing program you apply to determine their specific policies regarding TEAS retakes.
It's worth noting that there may be waiting periods between retakes, which can vary by program. Additionally, some nursing programs may only consider the highest score achieved, while others may average multiple scores.
Conclusion
The TEAS test plays a vital role in the nursing school application process. It helps nursing schools to identify applicants who are most likely to succeed in their programs. By preparing well for the TEAS test, students can use the Naxlex TEAS 7 practice tests to increase their chances of gaining admission to their desired nursing program and succeeding in their nursing studies.
Still confused about the TEAS Exam? Join Naxlex and get 90% guaranteed of passing the exam with our 1000+ practice questions to get you super ready!